Solo Chapman Stick

"Kanjo" and "Rumi's Tambourine" are new solo pieces for Stick and frame drums. Both tracks were released in 2003 on the Frame Drummer's Group compilation CD; I also contributed some artwork to the project.

Below is a track from the first release of my new collaborative improvisational band, Wind, Sand & Stars. The band is the duo of myself on Chapman Stick and Eddie Estrin on electronic and acoustic drums. The CD is now completed and available for purchase. Please email me for details.

I have seen it from midsea for solo Chapman Stick with loops

•

This next track is just solo Stick venting, hence the title. It showcases one aspect of my musical thinking, namely, I tend to think in layers rather than harmonies, heterophony rather than polyphony. Music can be gestural and tell a story, regardless of whether to your ears it is "dissonant" or not.

Spleen for solo Chapman Stick with loops

•

From my first solo Stick CD, The Western Lands, 1994–1996, here are some sample tracks, including the title track. By "solo" I mean, I wrote all the pieces and produced the album; some tracks were composed, and some were structured improvs. The CD also features Al Jewer on flutes and Biff Blumfumgagnge on violin and drums. I played Stick, bass guitars, frame drums, and a few other items.

Describing A Circle (excerpt)

The Western Lands

Dry Sea/Farthest Shore (excerpt)

•

Another solo track, from my next solo CD project, Road Journal, still a compilation in progress. This is a first-take recording of a certain emotional state, with no overdubs and only minimal editing. (Recorded by Eddie Estrin and AD.)

20 minutes short of a year for solo Chapman Stick with loops




---

Solo Piano Improvisations

From time to time, I've recorded solo piano improvisations. These are rooted in my love of the instrument, which dates to my first piano lessons at age 6, and by my mother having been a professional pianist and teacher. I've always been around pianos, and I've always played them. I was never interested in being a piano performer, though, so I never practiced enough. What I loved to do was sit down and play. I taught myself jazz improv on piano after graduating from music school; the truth was, I needed to do something other than what I had been doing. For several years, this aspect of my musical life was on hold, but it goes in waves. Every so often, I feel the desire to play solo piano again, and sometimes I record it. In 2006 I started recording piano improvs again, and I've continued to do so, off and on, ever since.

Excuse the barely adequate descriptive titles. Most of these pieces don't have actual names. Maybe they will, if I collect them together and edit them for actual release.

c# minor patterns. This is a piece I first started playing in the early 1980s. It's actually a structured improv, a chordal system with note changes happening in a sysematic but not pre-determined way. Modal rather than tonal. This pattern is also the basis for the piece linked to above, elegy for George. Recorded Jume 2006, Chicago, IL.

Piano solo no. 9. A minor modal mood. Recorded June 2006, Chicago, IL.

(Just for fun, here's a version of the previous piece run through digital processing that emulates Frippertronics.)

Abstract (no. 4). Something atonal and abstract that moves towards something quiet and contemplative. Rcorded June 2006, Chicago, IL.

F Major pleasures (no. 5). Recorded June 2006, Chicago, IL.

•

Two pieces recorded just before All Hallow's Eve 2007, in Beloit, WI. The first uses several processing techniques to structure improvised piano fragments into an otherworldly, evocative electroacuostic piece. The second is a straightforward elegy for the recently dead.

Samhain 1

Samhain 2

•

Afternoon. The spring afternoon sunlight spilling into the room, the first piece played on my late mother's freshly-tuned piano. Recorded April 2008, Beloit, WI.

Rain. A rainyand windy day, the wind throwing the rain hard against the big windows on the east side of the house. It rains all day long. Recorded April 2008, Beloit, WI.

Rain (with rain). Remix of Rain, layering it with more sounds of heavy rain against the windows from that same afternoon. Recorded April 2008, Beloit, WI.




---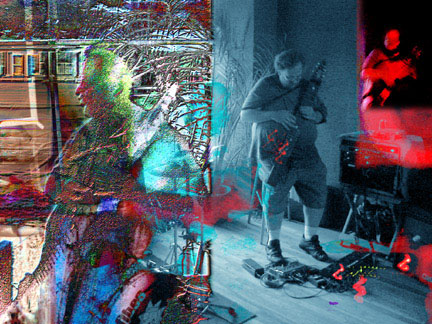 Wind, Sand & Stars

Here are two other short pieces from Wind, Sand & Stars, in various styles. Everything we do is either purely spontaneous or somewhat-structured improv, recorded live with no overdubs. People sometimes ask us how many people are in the band, because of the full textures: there are two.

when seafloor is ceiling

not having mirrors


Here are two excerpts from longer WS&S pieces:

coconspirator of dreams

bossa nova polar lander excerpt




---
11 February 2006, San Francisco

•

Arthur Durkee, Chapman Stick, loops
Mika Pontecorvo, guitar, samples, software



---


Improvised world-fusion music. San Francisco Bay Area, CA. I've been playing with them since spring of 2005. We also do live improvised soundtrack music for silent films.

Al-i Nahfs sample tracks page



---
High-energy improvised jazz/rock fusion. El Cerrito, CA. A new project for me since spring 2005.

Fuse Demo CD tracks




---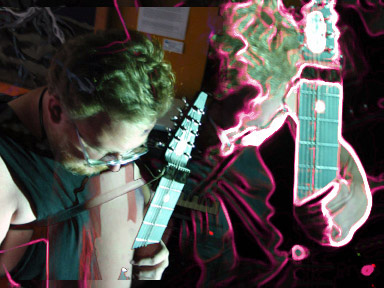 Dangerous Odds

Dangerous Odds was for many years my main outlet for performance. We formally gave our first live improvised concert show in 1991 in Chicago. We had an ongoing monthly live radio show on WORT-FM Madison for many years. This was an incentive to be constantly doing new material; our back-catalog is huge, and needs sorting through. We released a compilation CD, but there's enough quality performance recordings for several more. We still do the occasional gig, too.

Dangerous Odds specialized in poetry performance with spontaneous music. Playing music with Odds was great fun, because of the unpredictability: we were sometimes quite serious, and often extremely silly. But it's all great music, because the players and poets know each other so well. And yes, it's all improvised. The core group of performers for several years consisted of:

Al Jewer: flute, bass, percussion, wind synth
Ron Ellis: poetry performance
Larry Giles: poetry performance
Art Durkee: Stick, bass, occasional poetizing, percussion
Tom Hamer: electronic and acoustic drums, percussion, toys
Diedre Buckley: viola
and
Biff Blumfumgagnge: violin, balaika, guitars, vocals
Kristina Hord, french horn, vocals

We also had several regular guests, and one or two other regulars who were with us for awhile before moving on. Odds was also mostly a guitar-free zone, with guitarists invited by special request only.

Tantrum features me on Stick and drum programming (twin Yamaha RX5s that start in sync and gradually go out of phase), and Al Jewer on screaming wind synth. We recorded this direct to computer late one night, when we were both fed up with life and feeling mean. The piece's name was a no-brainer.

Horse At Breath is one of my own poems. It's read here by Odds chief poet R. Virgil Ellis, with myself on Stick, and Al Jewer on flute. In my opinion, this is a really terrific performance of this poem, and we were really "in the zone" the night we recorded it.

Odds Kill Barney is a little improv monstrosity in which we kill Barney the Purple Dinosaur. A silly moment. But he deserved it. Really. No regrets.

An Homage to Stick Players Everywhere from Chairman Al Big J.

A Dangerous Odds holiday greeting PSA for WORT-FM Madison, featuring Al, Tom and Art.

Ancient Girl is one of my favorite Odds performances. This is shamanic music, dark and poweful and muscular. Towards the end, I used the Infinite Sustain to create humpback whalesounds with the bass side of the Stick.

Clocks in Chaos features poet Larry Giles with the musicians all ticking away at various rates.

Sit Back and Enjoy the Music!

And here are some pics of the band, from a Dangerous Odds gig at Mother Fool's in Madison, WI.




---
Jazz inspired by world music. Most of the pieces are written by Tom Lachmund, with a couple written by me, and a couple of free improvs. The notated lead sheets are often cyclic structures that serve as foundations for free blowing. Free jazz meets ethnomusicology.
Tom Lachmund: saxophones, bass clarinet, percussion
Art Durkee: Stick, percussion
"Uncle" Larry Hancock: bass, percussion
Tommy Thompson: drums, percussion




---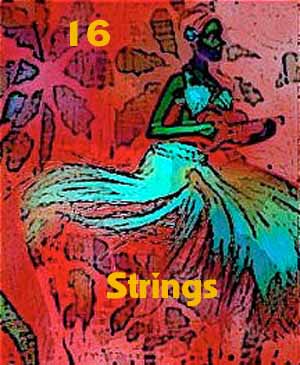 Improvised duo music for slide guitar and Chapman Stick. Also a tribute page to my departed pal Ron Jones.